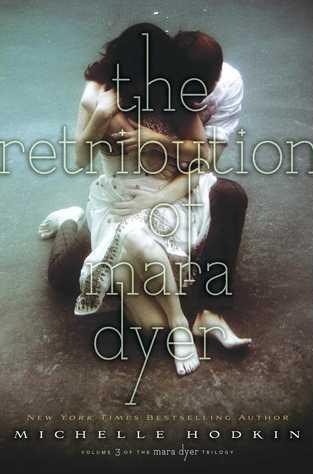 TITLE:
The Retribution of Mara Dyer
SERIES:
Mara Dyer Trilogy, #3
AUTHOR:
Michelle Hodkin
GENRE:
Young Adult, Psychological, Paranormal, Thriller, Mystery
RELEASE DATE:
4th November, 2014
RATINGS:
BUY LINK:
AMAZON
BOOK BLURB:
Mara Dyer wants to believe there's more to the lies she's been told.




There is.




She doesn't stop to think about where her quest for the truth might lead.




She should.




She never had to imagine how far she would go for vengeance.




She will now.




Loyalties are betrayed, guilt and innocence tangle, and fate and chance collide in this shocking conclusion to Mara Dyer's story.
REVIEW
I am so confused on whether to bump the stars down or up. I first gave it a five then four and now I am giving it a five again. >_< I really love it but I am so indecisive and I really believe there should be a book four. Lol. FIVE STARS! I will not tamper my rating anymore. That's my final rating!
I have loved Mara Dyer Trilogy since the first book. I am so thankful to my officemate/friend/book addict, Madel, for lending me her copy of the first two books. :) I am in love with Noah Shaw. <3 The books made me question if I'm sane enough to continue reading. It is so wonderfully written by Michelle Hodkin. KUDOS!!! I hope you, one day, have a signing here!!! Please!
This is so... Sooooo... Good! I liked it. I can't even think of words to perfectly describe how I feel about this book. This is definitely one of my favorite trilogy. And will always have a special place in my heart. Especially Noah Shaw. And honestly? All of them. Daniel, Jamie, Stella. I wanted to know Abel Lukumi. His past. Maybe a novella? Hehehe.
Also, I feel like there's still more to it. The ending is HEA but at the same time, there's still more story there. Like what will happen when they get back to Miami? What will the future bring to them? Of what they chose?
But anyway, I really loved the whole trilogy. I can't believe it's finally over. T.T you guys should read it. I will reread the trilogy again once I have the HB copy of The Evolution of Mara Dyer.
P.S. I do believe it's her real name.
****