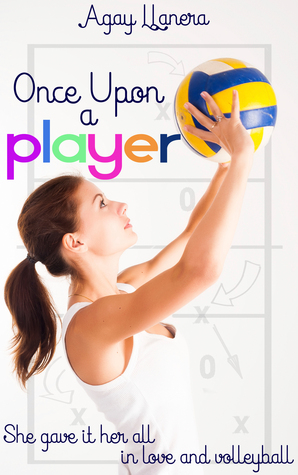 TITLE:
Once Upon a Player
AUTHOR:
Agay Llanera
GENRE:
Young Adult, Contemporary,
RELEASE DATE:
9th August 2014
RATING:
BUY LINK:
Amazon
|
B&N
BOOK BLURB:
Gorgeous college senior Val Fabian is a player in every sense of the word. She's the star spiker of her university's volleyball team, and she never runs out of dates. But it seems that this year, she has finally been bitten by the commitment bug. She sets her sights on an unexpected target--the unassuming yet ultra-cute Jake Clementia. Val is used to getting what she wants, and is sure she'll snag him before graduation. But in the process of winning his heart, she is sideswiped by a surprise move that sends her tumbling from her pedestal.

REVIEW
When I saw that Diane of Oops I Read A Book Again had this book on tour, I decided to sign up. I don't know the reasons why I did. I just did. So I read it in just a couple of hours, and I think it is a good book.
First, I didn't know it was written by a Filipino. Or maybe I did, maybe that is why I choose to participate in the Blog Tour. Promote our own writers. Well, anyway, the whole time I was reading, I felt... Weird, I guess. Mainly because it's been so long since I read my fellow countrymen's stories. And the setting took place here. It's definitely weird. Lol.
Second, I think... It doesn't have too many differences to the ones published locally (e.g. PHR). Only difference was... It's purely written in English. Local romance novels published it Taglish. It's kinda weird to read stories with settings here and they are talking in English language.
The plot... It's okay. It doesn't elicit all the feels but just so-so. I don't feel the 'kilig' I most felt whenever I read romance books especially ones that are written by local authors. But I give the author some positive points. It's definitely interesting.
EXCERPT
His name was Jacob Isaac Clementia.
She knew this because she had read the name off the paper as quickly and unobtrusively as she could before tucking those three words in the folds of her memory.
Technically, he was the first friend she made in college. Not Dessa, but this guy with the easy smile and quiet confidence.
It happened three years ago but she could still remember every detail including what he wore—a red polo shirt that highlighted his fair skin, dark blue jeans that hung low on the waist, and immaculate red and mocha sneakers.
For the last ten minutes, Val had been feeding her twenty-peso bill to the vending machine, which had kept spitting it out. She pressed her nose against the glass, staring at the can of orange soda that was breaking out in cold sweat. She wanted it. She desperately needed it. Commuting to school had been hell, more so than usual since she rode the wrong jeepney, lengthening the torture under the sweltering heat. She growled in frustration and kicked the side of the machine.
"That should teach it a lesson." She gave a start at the amused voice behind her. "Here, let me try."
Val looked up at his thin, boyish face—a contrast to his towering height. His hair was in that growing-out stage, a week shy of a trim, with bangs creeping down the forehead and the top shooting out in small spikes. With long, bony fingers, he smoothed out the bill worn and wrinkled from the countless times it had changed hands—including those of the jeepney driver that had handed it to her as change. Suddenly, Val felt exposed. There was something private about, not only the amount, but also the state of a person's pocket money.
ABOUT THE AUTHOR
Agay Llanera is a freelance writer for television and a published writer of children's books. She is a member of KUTING, a private, non-stock, non-profit organization, which aims to be the Philippines' foremost writers' organization for children.

Her first romance novella, Vintage Love is available on e-bookstores (Amazon, Kobo, Buqo, Smashwords).