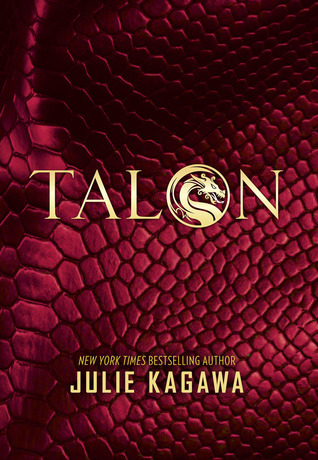 TITLE:
Talon
SERIES:
Talon, #1
AUTHOR:
Julie Kagawa
GENRE:
Young Adult, Mythology, Fantasy, Dragons
RELEASE DATE:
28th October 2014
RATING:
BUY LINK:
Amazon
|
B&N
|
TBD
|
Kobo
(Pre-Orders)
BOOK BLURB:
Long ago, dragons were hunted to near extinction by the Order of St. George, a legendary society of dragon slayers. Hiding in human form and growing their numbers in secret, the dragons of Talon have become strong and cunning, and they're positioned to take over the world with humans none the wiser.

Ember and Dante Hill are the only sister and brother known to dragonkind. Trained to infiltrate society, Ember wants to live the teen experience and enjoy a summer of freedom before taking her destined place in Talon. But destiny is a matter of perspective, and a rogue dragon will soon challenge everything Ember has been taught. As Ember struggles to accept her future, she and her brother are hunted by the Order of St. George.

Soldier Garret Xavier Sebastian has a mission to seek and destroy all dragons, and Talon's newest recruits in particular. But he cannot kill unless he is certain he has found his prey: and nothing is certain about Ember Hill. Faced with Ember's bravery, confidence and all-too-human desires, Garret begins to question everything that the Order has ingrained in him: and what he might be willing to give up to find the truth about dragons.
REVIEW
Between 2 and 3 stars. Still thinking if I will round down. -_-
Anyway, for those who knew me, they'll testify that I love Julie Kagawa. I have read The Iron Fey and Blood Eden Trilogy and I have loved them both. So when she told us she'll have another book coming, naming Talon, it's all I can do to wait for it. Thankfully, here's the ARC, I have read it and somewhat, disappointed.
Dragons. Who wouldn't love stories about dragons? Those mythical creatures. I am fascinated with them. Though, if I daresay, Talon's world is a bit underconstructed. I mean, this could be greatly improved in let's say second book. But I am talking about the first one here so, yeah. The world building lacked something.
I told you I have questions, right? Like how did it started? The war between Order of St. George and TALON. I was given the answer but as I have told you in my status, it was not enough for a fantasy reader like me. In my opinion, I would love to hear some epic reason as to why it happened and more background about it. Maybe, we'll have it at second book, so I am not closing my doors in that possibility.
I also noticed that... The love story is always the same with her other characters from other series. It is always like Romeo and Juliet-y. The characters always the same. Love triangle, one serious, brooding guy and other guy is sarcastic, witty. And of course, the female would always choose the brooding and serious guy. It was like that in The Iron Fey and Blood Eden. Back then, I didn't mind. Even if I reread those series, I still wouldn't mind and they will always be my favorites.
But right now, I wanted some change. Talon is not bad, the book I mean not the organization. Lol. I still love Julie Kagawa's writing. I really believe she is one of the best writers I have ever known and will always have a special place in my heart. Although having said that, I still want something more from Talon. It didn't satisfy me, I know the book will improved more.
So no, I am not closing my mind off reading the second book when it became available in I don't know how many months after Talon is out. Lol. I will definitely still be reading them. Hoping for something better.
At least on my end, it is a good read and I have enjoyed most of it. Hope you will too! :)