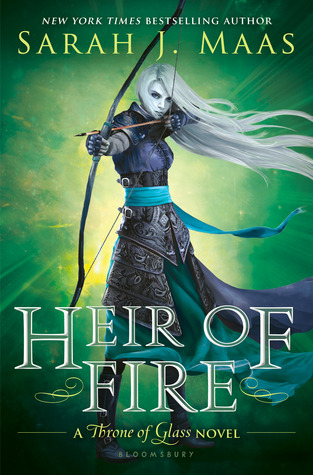 TITLE:
Heir of Fire
SERIES:
Throne of Glass, #3
AUTHOR:
Sarah J. Maas
GENRE:
Young Adult, High Fantasy, Magic
RELEASE DATE:
11th September 2014
RATINGS:
WHERE TO BUY:
Amazon
|
B&N
|
TBD
BOOK BLURB:
Lost and broken, Celaena Sardothien's only thought is to avenge the savage death of her dearest friend: as the King of Adarlan's Assassin, she is bound to serve this tyrant, but he will pay for what he did. Any hope Celaena has of destroying the king lies in answers to be found in Wendlyn. Sacrificing his future, Chaol, the Captain of the King's Guard, has sent Celaena there to protect her, but her darkest demons lay in that same place. If she can overcome them, she will be Adarlan's biggest threat – and his own toughest enemy.

While Celaena learns of her true destiny, and the eyes of Erilea are on Wendlyn, a brutal and beastly force is preparing to take to the skies. Will Celaena find the strength not only to win her own battles, but to fight a war that could pit her loyalties to her own people against those she has grown to love?
REVIEW
Buddy read with Deniz! <3 01.21.2015
FINISHED IT! HOLY MOTHER------!!! SARAH J. MAAS IS ONE FREAKING BRILLIANT AUTHOR!
I can't get over it! Sadly, I can't read anything else unless I pour out all my thoughts about this book. I have already done it with Deniz but I haven't been able to write it here so it kinda doesn't count.
What I wanna say is that for all of those who haven't read the series or specifically this book,
READ IT NOW.
It's so much better than the first or the second book which I barely say anything to my review. LOL. Although some would be annoyed at Celaena like Deniz and I did but hell, in the end it was all worth it.
I find Celaena moping repetitive but honestly? I don't care as long as she redeemed herself and she kick ass. lol.
BUT
if she'll be like this at the last three books, can I please kick her butt?! I honestly thought she kinda deserved all the moping or whining she did. But at the end of this book, I had enough, she had enough.
FINALLY
. Don't do it again on the last three books, okay?
I was annoyed at Chaol being whiny and all that crap. I mean, dude! Seriously? Get over it and man up! Do what you think is right. You already know the answer but you wanted to mope around and get away from all of it. Not responsible of you. Hoping you will finally step up and fight back.
Dorian
. Oh yes. He was a bit irritating but then he changed. Something happened and I won't tell what. But he did changed and I love that that is his
LINE
(hint: scene towards the end). And it breaks my heart to see what his tyrant ass of a father did to him.
Rowan
. Oh gosh, I am in awe of him. I liked him a lot. He's loyal, powerful, good for Celaena and not in that kind of way. He's brutal but patient. I'm voting for him to be Celaena's love interest. lol.
But I am definitely happy that Celaena doesn't have any love interest for now. :p And hope it stays that way. :D
Aedion.
OH, I wish for Aedion is that he sees Celaena soon and everything he did will not be in vain. :(
MANON
. I was wondering about her. And I really do hope she and Celaena will be side by side together. I can actually picture it in my mind.
Enough of the characters... The world building, I must say definitely improved from the last time. I kept on seeing the world in my mind. I kept on saying this will be awesome in movies. But I kinda hope that the producers will do it the same way the readers sees it in their own imagination. It was so cleverly written that I honestly say that Maas continue to improve her writing skills.
She had me turning the page excitedly, waiting for the next scene, what will happen to them. It was that exciting. I even cried when Celaena revealed her past. I cried with what happened to Sorscha and Aedion. I am excited for the fourth book,
Queen Of Shadows.
I wish it's Fall already. :(
Thank you, Sarah J. Maas for the wonderful series! :)