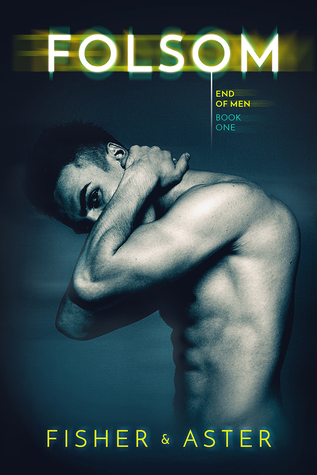 TITLE:
Folsom
SERIES:
End of Men, #1
AUTHOR:
Tarryn Fisher
&
Willow Aster
GENRE:
Adult, Dystopian
RELEASE DATE:
29th May 2018
RATINGS:
WHERE TO BUY:
Amazon
BOOK BLURB:
The nation as we know it is a thing of the past. With the male species on the verge of extinction, a society called the End Men is formed to save the world. Folsom Donahue is one of twelve men whose sole purpose is to repopulate the Regions. The endless days spent having sex with strangers leaves Folsom with an emptiness no amount of women, money, or status can fill.
Until Gwen.
Gwen has wanted a child for as long as she can remember, but when she finally gets a chance to have her own, she uncovers a long-hidden truth. The injustice she sees moves her to help save the men whom no one else believes need saving.
A forbidden love, grown in a time of despair, ignites a revolution. Folsom and Gwen, torn between their love for each other and their sense of duty, must make a choice. But some will stop at nothing to destroy them.
Folsom is book one of the End of Men series.
REVIEW
This book is not the typical Tarryn Fisher book. I haven't read Willow Aster's books yet but I plan to.
Imagine my surprise that Tarryn wrote a dystopian book. I love dystopian books and this is my first in the Adult genre. I usually read YA Dystopia. Anyway, why do good books hard to review? You can't say anything else besides
"THIS IS FUCKING GOOD. GO READ THIS."
Or scream yourself out how this is so good and everyone should go read it.
I've read YA books where women are used to breed children. Where men captured them, rapes them, etc. But this is the first where it's the other way around. Women wants to breed but it's their decision. Since there are only 12 men left in their country, or so they say.
These men are enslaved albeit glamorously paid and all their desires are given.
But still they are sex slaves, in short.
So you see, I started to pity these 12 men. They might liked it at first but nobody wants to have sex 3 times a day, almost everyday since you were 18 years old. And with different women, if I may add. Who wants that?! IT gets tiring.
What I loved about this is the rebels. Gwen. Of course we all know Gwen will be the special snowflake. I know that. But I still love her tenacity. I love that she's made like that. I got really teary eyed on a lot of parts. I stopped it as soon as it formed though because I'm at the office. But you get me, right?
I cannot imagine my child to be taken away from me. This, I know from the moment I gave birth to her, I cannot take that. So yes, I feel all the feels, a mother should feel in some parts. Gah. I wanna read the next book now.
Because it does end in a cliffy.
But seriously,
GO FUCKING READ THIS. IT IS FUCKING GOOD. IT HAS SEX, I KNOW YOU WANT THOSE SCENES. YES THERE ARE SOME AND DETAILED. BUT THERE IS ALSO CONTENT IN THIS BOOK.
I don't read a lot of adult books for fear of too many sex scenes and less world building, but this is different.
I REALLY BELIEVE THIS IS WORTH THE READ.
BTW, I
devoured
this book. I read it in less than 24 hours, which is saying something due to my short attention span these days. It is that intriguing, engaging and definitely an awesome read.
K. THANKS. BYE.
P.S.
Book two comes out soon! I read somewhere that Jackal's book will be released around July. But it's Tarryn. So we might or we might not get it early or in time. LMAO.